Kylie Jenner is sharing a very real mom moment, and we totally
The "self-made" billionaire posted a confession along with a sweet video:
"I love doing her hair. I'm not the best but I love learning. Some of my favorite memories are of my mom doing my hair. Can't wait till [Stormi's] hair is long enough to all fit in the pony. Gotta make it work for now."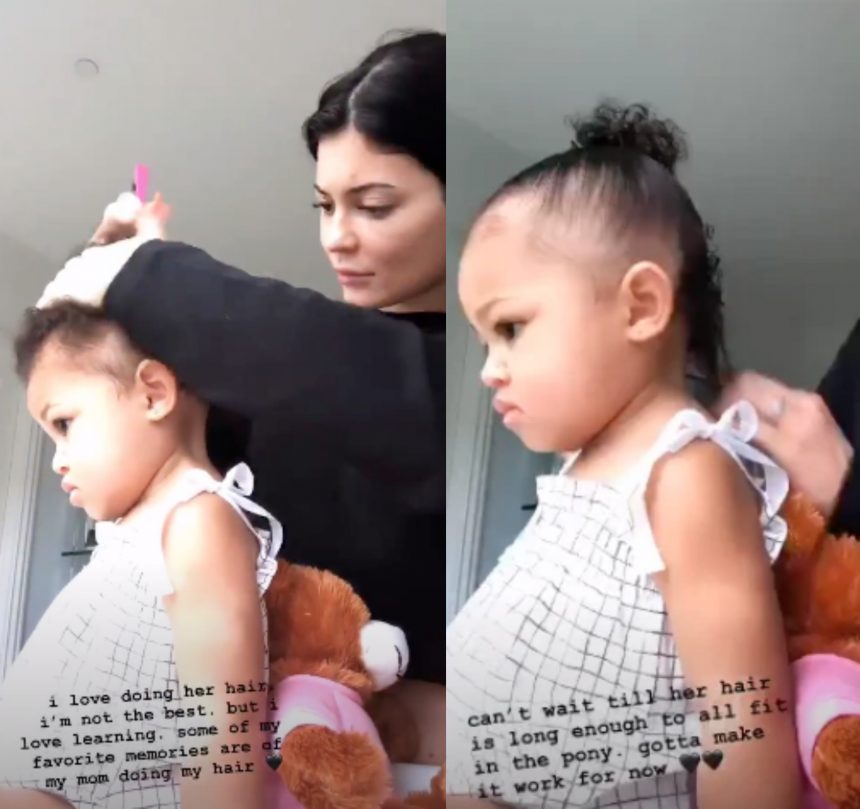 Social media went on to praise Kylie for learning how to style and treat Stormi's locks. Check out some of the best reactions:
"I'm very proud of @kyliejenner learning how to do her mixed race Daughter Stormi's hair! It grinds my gears when I see mixed babies with their hair not done properly. If you have a baby with kinky or curly hair please learn the basics to properly maintain it. 💕"

"You know what, I give her credit for actually learning how to do her daughters hair. 🙏🏾👍🏾 keep it [email protected]"

"Watching Kylie detangle and moisturize baby Stormi's hair and then laying out her edges. 😩 That shit was so cute. I really enjoy watching her as a mom."

"I actually applaud any non black mother who takes the time to learn how to do their half black daughter's hair. It's much better than seeing women pop out babies by black men just to say they have a mixed baby but not actually learn how to do their hair."

"I support. Majority of Caucasian moms don't even try to do their black children's hair. They take them to African/Black hair shops, let the dad's family do their children's hair, or don't even touch it at all. & she's a celebrity so you'd expect her to not do anything. Good for her."

"Miss Kylie Jenner had an edgebrush while she was doing Stormi's hair. I appreciate the growth, sis."
Fans were also quick to praise Kylie for figuring it out herself, and joke about Kim Kardashian West, who enlisted the guidance of celebrity hairstylist Kim Kimble to teach her how to braid North West's hair.
A follower wrote:
"I mean Kylie better lay down Baby Stormi's edges and slick that ponytail !!! She needs to help Kim."
Ch-ch-check out the full adorable video of Ky and Stormi (below)!
Thoughts on all of this, Perezcious readers? We think Kylie is doing an amazing job with Stormi. She's truly a natural caregiver and momma!
[Image via Kylie Jenner/Instagram]
Read more: http://perezhilton.com/